Christians In Trouble: 190 Cities Aid in Americas Destruction! DOD Trains For Civil Unrest With Weapons Aimed at Participants! Bone Chilling! | Global Unrest:
"A government which will turn its tanks upon its people, for any reason, is a government with a taste of blood and a thirst for power and must either be smartly rebuked, or blindly obeyed in deadly fear." – John Salter
Our government is doing just that! They are turning their back on us and displaying their power hungry control and we are in deep trouble if we allow it to continue.
If truth be told we have crossed the threshold into a particularly concerning chapter in the American story, one that shifts us from a tale of adventure into a blood-curdling horror story. We have come full circle and while we are no longer being held captive by a British police state as our founders were; we are now being held captive by the American police state.
In the video below I discuss everything about the move into this police state including how the DOD is training for civil unrest with weapons faced at participants, the link to Jade Helm, the move to implode the economy with immigrants, 190 cities that are aiding in the destruction of America, and more…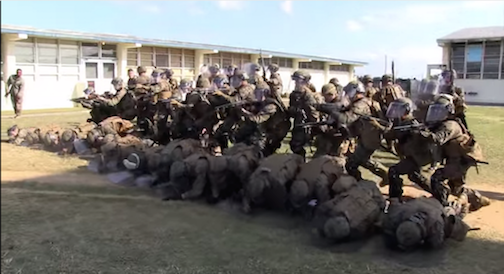 'via Blog this'